10° Biennale di Kaunas "Networked Encounters"
10th Kaunas Biennial "Networked Encounters"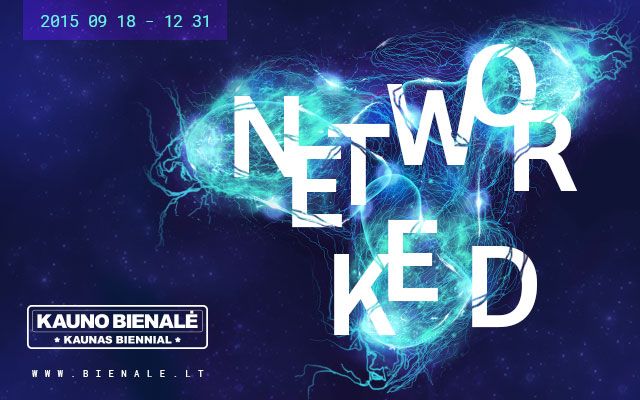 18/09/2015 00:00:00
Arte&Arte torna protagonista alla Biennale di Kaunas con Vacca e Muzzeddu.
MattiaVacca dal 18 settembre fino al 31 dicembre 2015 l'Associazione culturale Arte&Arte, che da anni organizza Miniartextil, è protagonista in Lituania alla decima edizione della Biennale di Kaunas. Dopo una prima esperienza avvenuta nel 2007, tornare a collaborare con la curatrice Virginija Vitkiene e tutti gli organizzatori e promotori della Biennale è un vero onore, oltre che un'ulteriore occasione per coinvolgere l'associazione – attiva da venticinque anni nell'ambito della fiber art contemporanea con la mostra Miniartextil – nel panorama culturale internazionale.
La presenza di Arte&Arte, in qualità di partner italiano, insieme agli altri partner inglesi e croati ha giocato un ruolo fondamentale nell'ottenere i contributi della Comunità Europea per il progetto promosso dall'associazione lituana. Il tema scelto per questa edizione "Networked Encounters" è dedicato alle nuove forme di comunicazione e dialogo, un aspetto in continuo e veloce mutamento.
Arte&Arte ha avuto il compito di proporre due giovani artisti italiani che si troveranno nel prossimo mese di settembre a lavorare a Kaunas in collaborazione con gli altri artisti invitati dai partner coinvolti.
SimonaMuzzeddu sarà protagonista di una residenza di artista a Kaunas, la fotografa di Gallarate (VA), Simona Muzzeddu. In continua ricerca e sperimentazione artistica, Simona proporrà per la Biennale un pannello a Led RGB per la proiezione sia di fotografie e di frammenti di video della sua produzione, sia delle nuove impressioni che catturerà durante la permanenza in Lituania. In linea con l'intrinseco dinamismo che contraddistingue la nostra società, il pannello avrà la funzione di schermo per una sovrapposta "chat virtuale". Tramite questa, il pubblico, di lingue e culture differenti, potrà interagire e commentare le immagini proiettate secondo due modalità, diretta e online in tempo reale. L'obiettivo è che gli utenti della chat e il pubblico della mostra, diventino parte attiva del lavoro artistico e che l'opera, a sua volta, sia fruibile via chat e oggetto stesso della conversazione online. Il lavoro di Simona Muzzeddu è dunque uno specchio che riflette ed espande, coinvolge e connette i momenti di creazione e produzione artistica.
Simona Muzzeddu and Mattia Vacca are two Italian artists of the same generation, who both use light to express themselves artistically: Simona uses LED light, while Mattia uses light as imprinted on film.
Simona is a visual artist who graduated in Painting from the Brera Academy of Fine Arts (Milan); whilst there, she also found herself coming under the spell of graphics and photography.
When Virginija Vitkiene asked me to work as Italian partner in Networked Encounters -the title of the tenth edition of the Kaunas Biennial – I naturally turned to my collaborators with a view to establishing a close relationship, setting up a preliminary link and creating an initial network with two artists who did not know each other but who could produce a joint response to our organisational needs.
Networked Encounters is the result of long and hard work carried out by the Lithuanian organisers of the Biennial and the partners in the various countries. The aim has been to bring to fruition an ambitious and topical project, with features that are also reflected in the works of Simona and Mattia.
The first of the two artists above, Simona Muzzeddu, was invited to attend the residency programme, which saw her participating with other young emerging artists from countries involved in the Biennial; she had the idea to make an RGB (red, green, blue) LED panel for the projection of both photographs and video clips of her artistic production, as well as new impressions captured during her stay in Kaunas.
Reflecting the dynamism that characterises and is essential to our present society, the panel will also act as a screen for superimposed "virtual chats". Through it, visitors can interact and share their comments on the images projected in two ways. The first is based on the tried and tested short text messages: in this way phrases written by the various users in different languages will overwrite what is appearing on the panel, creating associations of words and images.
The second is a more across-the-board approach that is accessible to a non-multilingual audience, using "emoticons" to change the intensity and colour of the LED. For example, if a sad face emoticon is sent, the photograph will become gloomy, and if a happy emoticon is sent, the picture will become brighter. An angry emoticon will turn the image red, and so on.
The work will also be seen and enjoyed online and in real time; it will be a means of webcam chat. The aim is to have chat users and the public at the exhibition actively engaging with the art, which can itself become the subject of online discussion.
The work of Simona Muzzeddu is therefore a mirror that reflects and expands, involving and connecting the creative moments and production of the artist.