Amistade0
Amistade0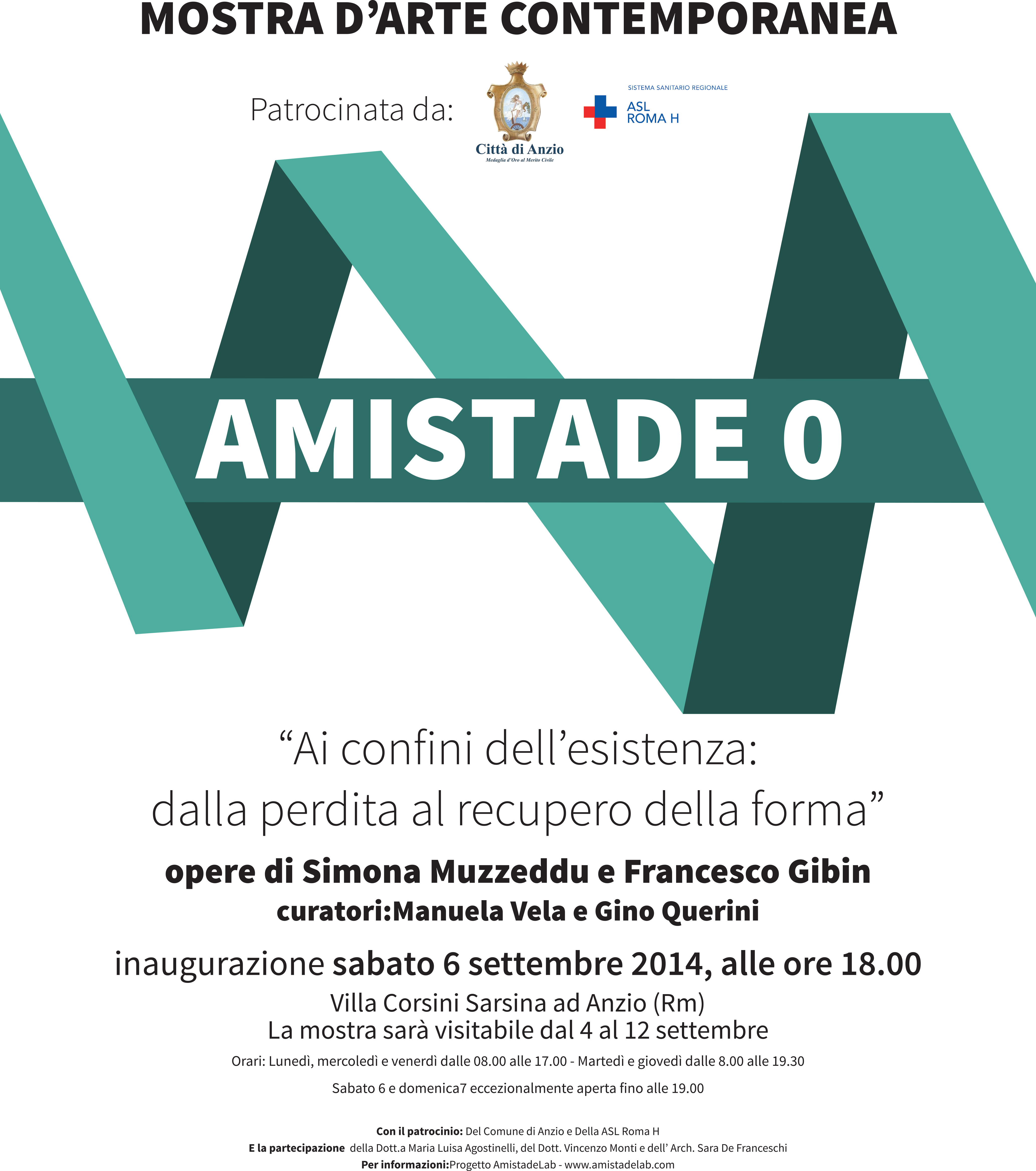 06/09/2014 00:00:00
Amistade 0
" Ai confini dell'esistenza: dalla perdita al recupero della forma"
Il 6 settembre, alle ore 18.00, nella splendida cornice di Villa Sarsina ad Anzio, sarà inaugurata la mostra "Amistade 0" con le opere degli artisti gallaratesi Simona Muzzeddu e Francesco Gibin, entrambi diplomati all'Accademia di Belle Arti di Brera.
La mostra è patrocinata dal Comune di Anzio e dalla ASL Roma H.
Le opere dei due artisti s'incastrano in un percorso concettuale costruito sulla base del dualismo "vuoto - pieno". In alcune dottrine orientali il Vuoto e il Pieno sono elementi fondamentali e indivisibili dell'esistenza: il vuoto, infatti, è lo spazio ideale dell'esistenza perché è sempre pronto a ricevere e ad essere riempito e, dunque, implica il costante azzeramento di uno spazio pieno definito dalla forma e dalla materia in continuo mutamento.
Nella nostra mostra, il senso di vuoto lasciato dalla serie fotografica e dalla videoinstallazione "Borderline, la linea di confine" e "Borderline, Psychotic Activity" di Simona Muzzeddu, che affrontano gli effetti sulla coscienza umana delle malattie neuropsichiatriche, viene riempito dall'operazione artistica di Francesco Gibin, che compone i volumi e le forme delle sue sculture a partire dagli "oggetti di scarto" e solo apparentemente "fuori uso".
Nell'eterno divenire della forma e della sostanza delle cose, anche i reperti archeologici conservati all'interno della settecentesca Villa Sarsina, oggetto di un lungo periodo di restauro, acquistano un significato simbolico rispetto alla nostra mostra: giunti a noi da tempi remoti, con lo scorrere del tempo, sono soggetti a continui mutamenti di aspetto, significato e interpretazione. Le loro parti mancanti, o lacune, diventano dunque fonte di ricostruzione e di stimolo allo studio e alla conoscenza da parte di storici, archeologi e restauratori di ogni epoca. Riscopriamo, così, anche nelle rovine del passato il fascino dello spazio vuoto come principio inesauribile del creare e dell'agire.
Ringraziamo per la loro partecipazione:
La Dott.a Maria Luisa Agostinelli, Analista Junghiana e Autrice di numerosi libri sul tema della malattia mentale.
Il Dott. Vincenzo Monti, scrittore di libri sulla storia e le tradizioni di Anzio e Nettuno.
L'Arch. Sara De Franceschi esperta di Design.
Introduction
Do you know the italian song Disamistade by Fabrizio de Andrè? The opposite of such word is the sardinian amistade, which means friendship. As the italian amicizia, the sardinian amistade derives from the latin amicitia too.
"Cumque plurimas et maximas commoditates amicitia contineat,
tum illa nimirum praestat omnibus,
quod bonam spem praelucet in posterum
nec debilitari animos aut cadere patitur. "
Cicero's words, coming from ancient times, show the deeper meaning of the word friendship. In fact, they are the perfect manner to introduce the bond that connects Simona Muzzeddu and Francesco Gibin, the protagonists of this exhibition. Their reciprocal support dates back from when they first met during high school years. It is in fact this kind of more personal friendship between artists that allows the more universal communication that characterizes artworks. This is especially true for those artists which put their intimate experiences and hardships into their art just as Simona Muzzeddu did. After the dramatic loss of her father to a fatal illness, the artist had long reflected on the impact that certain illnesses, "neurodegenerative of organic type" ones, have on the patients' lives. It it because of this will to understand and "exorcise" a dramatic experience that "Borderline- Linea di confine" was born in between the years 2012 and 2014. A year later, Simona Muzzeddu decided to extend her inquiry to the effects of mental illnesses. She realized then the video installation "Borderline Psychotic Activity" comprised by a video and a series of pictures taken in an abandoned Mental Asylum. From these works it appears clearly how neuropsychiatric diseases cause a devastating loss of control in the patients' lives: one's own certainties, role, social identity, they all become lost.
In "Borderline - Linea di confine" this condition is represented by a white wheelchair with IV therapy paraphernalia attached to it, portrayed in the middle of a number of naturalistic landscapes. Time and space seem stuck on that empty white chair, as emptiness is the main character of the representation. Just like photographs bring us into a kind of metaphysical dimension, these diseases freeze the patient in an existential condition of endless expectation, beyond which lies only the unknown.
In the forty-eight seconds of Borderline Psychotic Activity an actor plays the role of a psychiatric patient, wearing a straitjacket and looking desperately for a way out from his Asylum-prison. In the background we hear voices overlapping each other and the video is continuously interrupted by still images and static noises which could be caused both from a short-circuit of the camera or from our conscience. Everything here reminds the strong internal conflict of the patient, losing control on his life, on space and time around him, with the room around him simply empty.
For some oriental doctrines, emptiness his the ideal of existence as always ready to receive and being fulfilled. On the other hand, such condition requires the continuous nullification of form and matter. In "Amistade 0", the empty space left by Simona Muzzeddu resonates with the "fulfilled space" of Francesco Gibin's works.
Francesco Gibin experiments with a sort of "modular" sculpture from industrial and construction wastes. The artist studio is for him a sort of mechanical workshop where, with a bit of imagination, abandoned materials are newly "found" and originate new forms and names for matter and that is how combining different materials the artist is able to create things as a mysterious bird or a robotic Prometheus. Gibin, then, is directly opposing the contemporary practices of production and consume. For him, art reveals the hidden potentialities of objects and that is why, in art, no concept of "waste" exists: "nothing is created, nothing is destroyed, everything is transformed".
However, even if western civilization tends to destroy its present products, on the other hand it cares to preserve in museums, through the works of archaeologist, historians, restorers, the remains of its past. Obviously nothing that we recover is found as it originally was. Time, climate, uses and interpretations transform and give new aspects and new identities to such remains. That is why Archaeology and History focus mainly on the empty spaces in such remains, as it is in such emptiness that the origin of our actions and creations is to be found. For this reason we chose to intertwine the "Amistade 0" exposition with the archeological remains conserved in Villa Sarsina, the prestigious location for our exposition.
Manuela Vela